Rockwerx Consulting
Every successful business starts with a great plan.
For the Modern Climbing Gym
Our Consulting Package is designed to educate climbing gym administrators on the industry and to provide entrepreneurs the tools necessary to secure funding for their climbing wall construction projects.
With the climbing market exploding, the creation of a modern climbing gym requires a tremendous amount of groundwork even before the first load of steel is delivered. Gone are the days when a handful of climbers would turn a truck full of 2x4s and plywood into a back alley climbing gym. Modern climbing gyms are real businesses that generate real profits. They provide specialized services like corporate team building and youth climbing programs, and they have to deal with real issues like taxes and workman's compensation audits. The best climbing facilities are run by experienced management professionals who understand their success depends as much on customer service as it does on quality route setting.
Unlimited hours of expert consultation

$5,000 credit toward wall design and construction costs if you choose to build with Rockwerx

A fully customizable Climbing Gym Financial Plan Calculator

Full access to the entire Climbing Gym Startup Guide action items checklist

A customizable Climbing Gym Pitch Deck

Customizable financial projection sheets

Bank document templates, including P&L, financial statements, and roadmap for an SBA loan

Market demographic and population consultation

Conversation points with potential partners

Continued support through project management, including but not limited to leasing or purchasing, working with contractors, and site preparation
The Consultation Package
Rockwerx has been designing & building climbing walls and gyms since 1991. 
- Over 100 climbing gyms built in North America.
- 20+ repeat climbing gym customers.
That's only gyms… we have built thousands of climbing walls for Family Entertainment Centers, Amusement Parks, Schools, Athletic Complexes, Doctor's Offices, and Homes!
Almost every climbing gym that Rockwerx has built got its start with the Climbing Gym Start-up Consultation Package. This package is designed to give you all of the tools you need to get through the business planning and funding process.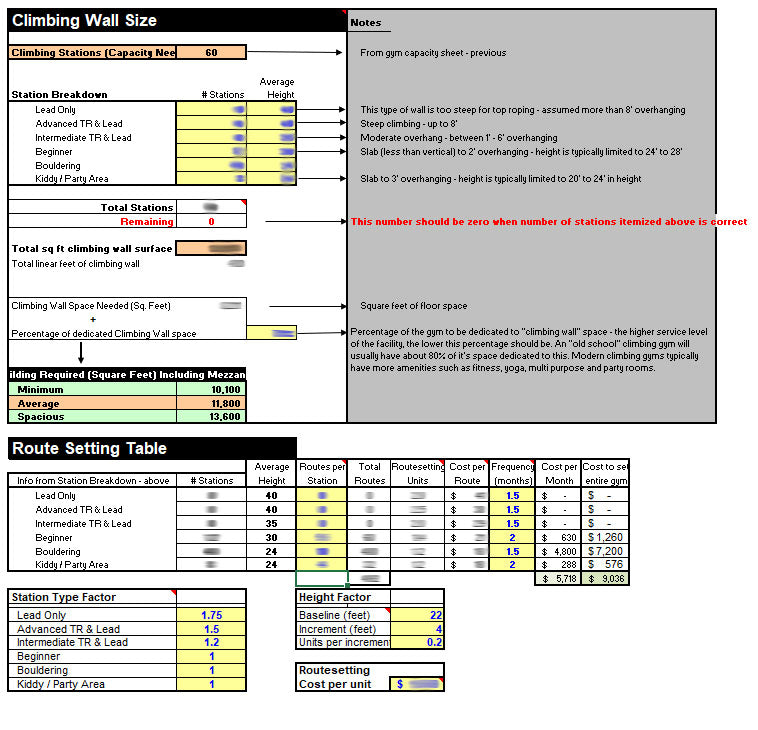 At the core of the package is GymPlan – a complete climbing gym business plan based on knowledge from the success of the 100+ climbing gyms that we have built. GymPlan comes as a Microsoft Word file for easy editing and formatting.
Most of our clients claim that the most valuable part of the package is GymCalc – an Excel based spread-sheet financial model of a climbing gym. This powerful tool begins with your local demographic data (population, income, age) and shows you what size climbing gym you should build to meet the demands of your area. It then produces real estate requirements & start-up costs and lets you create monthly revenue and expense models. In the end it provides the Return On Investment (ROI) projections that investors want to see before committing to investing in your project.
Plus You Get:
Unlimited Phone/ Screenshare Support - Perhaps the most valuable part of this package is our support along the way. In the past 20 years we've been involved in more than 70 climbing gym start-ups. We've seen first-hand what works and what doesn't. Our goal in all of this is to get you to the point where you can hire us to build the walls of your climbing gym. We are motivated to help you and give you the best advice to help you reach this goal. There is nobody in this small industry that has the amount of experience that Rockwerx does in this area. Having us in your corner will give you the support you need to make this happen.
Opening a climbing gym requires a ton of work and only the truly dedicated get it done. If you are 100% committed to opening a climbing gym, this package gives you everything you will need to reach your goal.
Once you have your funding and your building secured, Rockwerx will apply the cost of this package to your first payment on your climbing walls. Essentially if you hire Rockwerx to build your climbing gym, the start-up package is FREE.
Testimonial
"I would recommend the Rockwerx consulting package to anyone that is serious about opening a gym but feels overwhelmed at the scope of the planning & process.  There are a few companies that offer this sort of service, but what sold us on Rockwerx was the UNLIMITED phone support.  Mike has been amazing to work with – he is enthusiastic, friendly and VERY knowledgeable.  We have had weekly calls (often going over an hour) for the last several months, and I feel like he is almost as excited about our project as we are.  We were a little nervous about the cost, but quickly realized this service was worth 10x the price.  The software they provide helps you plan out the size, budget and projected budget of your gym in astonishing detail.  I can say with absolute certainty that we could have not secured our funding & investors without this service."
-Chris M